In cities across the country scenes of public support outside hospitals and #FrontLineHeroes trending on social media have been heartwarming. As Covid-19 continues to claim more lives, victories are few and far between especially in the intensive care unit, but this show of support somewhat mitigates the stress many healthcare workers face. We lost another person to Covid-19 that morning. Her husband, also an African American, had died the week before while their brother-in-law was still in critical condition. The burden of feeling you are not able to do enough for your patient is heavy. Driving into work later that day to be greeted by a parade of cars with blinkers on, and horns blaring with the sirens of the local fire brigade does lift the spirits before another 12-hour shift.
Absent Heroes
The warmth of the spotlight should leave healthcare workers feeling a little exposed. The feeling you get when praised for doing good, knowing the problems in healthcare we have all quietly ignored. While we have been on the frontlines facing the ravages of this virus – are we really heroes? We may deserve credit for placing duty above self, yet the systemic healthcare inequities laid bare by Covid-19 should make us heroes pause. In the past few decades as healthcare got complicated many physicians and nurses abdicated their role as patient advocates and healthcare leaders, increasingly consumed with the billing and documentation administrative burden. And when leaders have emerged, many are given roles without decision-making capacity.
The distance between patient care and administration has widened (see graph below), leading many healthcare decisions to focus on process improvements and revenue cycles instead of quality of care and outcomes. The specific knowledge acquired through years of training and decades of practice by frontline workers does not get factored into management decisions. Our voices collectively muffled as the cost of care escalated and access to care gerrymandered, having deferred to politicians, administrators, regulators, and private equity to shape healthcare.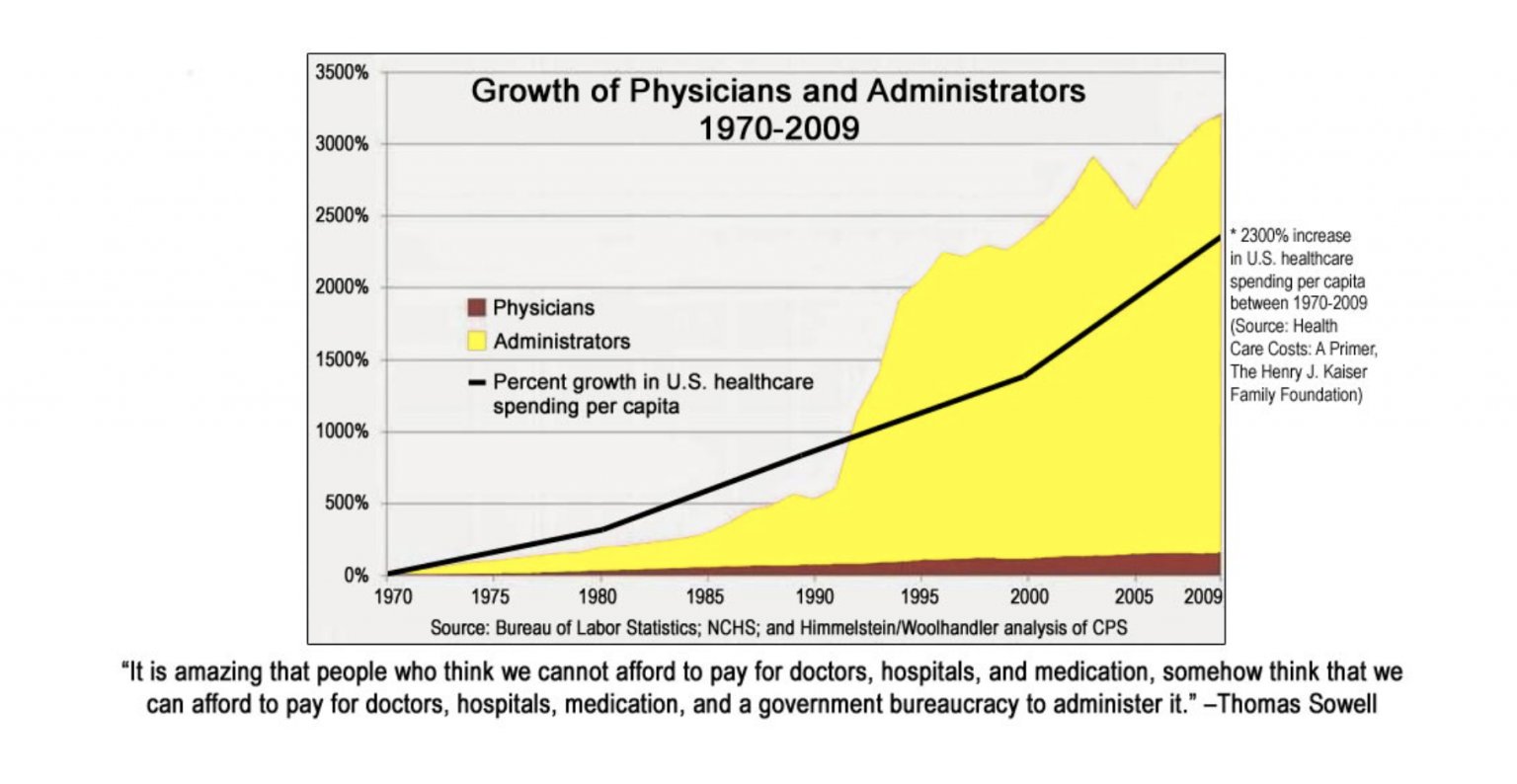 Resources: www.ibj.com
WHO and Health (in)Equity 
The World Health Organization (WHO) has not been a beacon of light during this pandemic, yet it has something going for it – the ability to adequately define an issue. The WHO defines health equity as an ideal that everyone should have a fair opportunity to attain their full health potential and that no one should be disadvantaged from achieving this potential. A great ideal to strive for, yet emerging data stateside reveals the uneven impact of the virus on our society; contradicting claims trumpeted by many that we are all equal in the eyes of Covid-19.
The Black, Brown and White Divide
Hispanic and black Americans are affected by this virus in much larger proportions than their white counterparts. In Michigan, black American deaths account for 40 percent of Covid-19 deaths while representing only 14 percent of the population. In neighboring Illinois, black Americans make up 43 percent of Covid-19 deaths while making up just 15 percent of the states' population. Hidden from view are the homeless and prison populations, of which 40 percent are blacks and 56 percent are blacks and Hispanics, respectively. Minorities are overrepresented in the morbidity and mortality of this pandemic likely due to poorer access to care and a higher burden of chronic diseases, making them especially vulnerable to this virus. And in oft-ignored nursing homes and skilled nursing facilities, where whites make up 4 out of every 5 residents, anything similar to Italy's 45 percent deaths from care homes could see a huge spike in deaths from over 80,000 recorded so far.
Additionally, an estimated 11 million undocumented immigrants are reluctant to seek care as they risk losing their jobs and face potential deportation, while documented immigrants fear the new public assistance regulation. Reports indicate that the Immigration and Customs Enforcement (ICE) has not let up on arrests and swift deportations. While deportations at the border may help protect us, enforcement within our borders may allow the proliferation of this virus.
Essential, A Double-edged (s)Word
 A significant proportion of essential healthcare workers are blue-collared and minimum wage earners, with minorities again over-represented in this group. Food and transportation are also essential services, which do not provide the option of working remotely or the choice to 'sit this one out'. Other essential hospital employees, such as janitorial, medical transport, and nutrition services may not have access to masks and the means of protecting their families and patients – social distancing is a privilege many cannot afford. Are we protecting all our #FrontLineHeroes?
Many non-essential workers are now without health insurance coverage, given our poorly conceived employment-based health benefits, as nearly thirty million people have filed jobless claims. This will delay many from seeking costly medical care, in addition to the fear of contracting Covid-19. Emergency room physicians have noticed fewer myocardial infarction (heart attack) admissions; it is unlikely to be that fewer people are suffering them but that they are reluctant to seek the help they need in a timely manner. In New York City an increase in cardiac arrest calls to 911 from home supports this concern.
Healthcare: Dream-maker or Robber Baron?
Over the years, the focus of care delivery has shifted and followed the money to specialist procedures instead of preventative care, evidenced by financial losses sustained by health systems due to a lack of elective procedures even as telehealth visits skyrocketed. Higher specialist reimbursements and limited training positions offered for primary and geriatric care have left our most vulnerable without the care they need. While healthcare workers have benefited from revenues generated and jobs created, we are failing our patients. 
The price of healthcare in the US has robbed most of realizing their full health potential, while physicians and nurses stayed in their lane. From hundreds of dollars for generic insulin to a byzantine insurance bureaucracy, and from a volume-based sick model of care to health system monopoly, these are signs of a broken system. As other industries improve by intimately understanding their customer needs and iterating their products – services and goods – the gulf between healthcare decision-makers and patients, widens. Leaving healthcare workers burnt out and patients sicker. 
Controversies on surprise billing, debt collection agencies run by not-for-profit hospitals, and escalating drug prices reveal healthcare's deviation from its mission to protect the health of a nation and its economy. The increasing cost of care translates into higher insurance premiums and decades of stagnating wages, leaving families with limited savings and an emergency room visit or a cancer diagnosis away from financial ruin. Falling ill in this country can break most middle-class families. Let that sink in as healthcare, the largest driver of bankruptcy in this country, continues to steal our health and financial equity. When will we demand our voices be heard?
Our patients deserve true heroes. The family earlier devastated by Covid-19 certainly deserved better, and so does every American robbed of their opportunity to attain their full health potential. As healthcare workers continue to receive gratitude from society – and a paycheck – we must refuse to return to business as usual. Unless we can continue living as guilty heroes when the parade dissipates.
Written by:
Drs. Jay Bhatt & Avinesh Bhar
Edited by:
Dr. Justine Bhar-Amato
About the author – Dr. Avinesh Bhar
Dr. Bhar is fellowship-trained and board-certified in sleep, critical care and pulmonary medicine. He has been in practice for over seven years and established a telemedicine practice founded on high-value and personalized, convenient and cost-effective sleep and pulmonary care. At Sliiip, we offer pulmonary and sleep telemedicine that allows you to receive video consultation, diagnosis, and follow up care from the comfort of your home. Our physician, Dr. Bhar, believes that high-quality care only comes from a trustful physician-patient relationship. To find out more about our services, get in touch with us today by visiting sliiip.com, or calling 478-238-3552.
Are there any thoughts you would like to share? Please feel free to leave a comment. Happy to continue this conversation.