Sleep medicine is a relatively new field within medicine, with a growing knowledge base. Recent books such as Matthew Walker's 'Why We Sleep: Unlocking the Power of Sleep and Dreams' has brought sleep into the mainstream conversation, while increasing sleep research has highlighted its underappreciated impact on our overall health and well-being. It is sobering to consider that just a few decades ago, sleep was thought of as a passive process with little impact aside from feeling tired after a poor night of sleep.
We now know better, yet we seem to make the evaluation of sleep a healthcare obstacle course – from awareness to assessment, and from testing to treatment – with multiple providers, opaque rules and unexpected costs involved. This process is so erroneous that the trucking lobby overturned a DoT mandate for obstructive sleep apnea (OSA) testing despite a strong association between undiagnosed OSA and motor vehicle accidents. With only 5 million out of an estimated 25 million people diagnosed with OSA here in the US, the convoluted journey to better sleep health has led to a massive problem of underdiagnosis and resistance to treatment.
New technology for the diagnosis of sleep apnea
That is all about to change as the FDA approved the first smartphone application to diagnose sleep apnea in June of 2019, making it as easy as downloading a phone app to test for obstructive sleep apnea (OSA). Yes, there is an app for that!
AtSliiip®, we are proud to be the exclusive telemedicine provider for DROWZLE PRO™; this partnership is testimony to our mission of delivering an unmatched patient-centered experience in sleep health.
Imagine combining a sleep telemedicine evaluation with a downloadable online sleep test! Using the same device to conduct an online video consultation with your sleep physician and to test for sleep apnea is truly game-changing. It finally brings sleep medicine in line with the frictionless customer experience we have grown accustomed to outside of healthcare. No more cumbersome cables, intrusive monitors, and tight straps; no more weeks-long turnaround times.
How does it work?
The process is as simple as it sounds. Following a telemedicine visit, our physician sends an e-prescription via email with a link to download the app. Within 30minutes of completing the test, the patient and the physician receive the results – no more begging to get a copy of your results. The e-prescription is valid for one year, and the test can be repeated up to six (6) times using that same prescription. The patient then has full access to a suite of sleep health tips through the app. 
Is this a poor man's sleep study? No! We would never compromise your health and care for a new shiny object. With multiple sleep apps out there, we have partnered with the only FDA-approved application to test for sleep apnea. The test compares very favorably to an in-laboratory sleep study (the gold standard) and is similar to a home sleep study (HST). And just like the HST, if the suspicion for OSA is high and the test result is surprisingly negative we can either repeat the test (up to six times) or proceed with a sleep study.
We are excited and you should be too. While we may not be able to say goodbye to the in-laboratory sleep study to evaluate complex sleep problems, we can finally start to bring down the barriers to better sleep care.
Welcome to the future of sleep medicine.
Written by Dr. Avinesh Bhar, MD MBA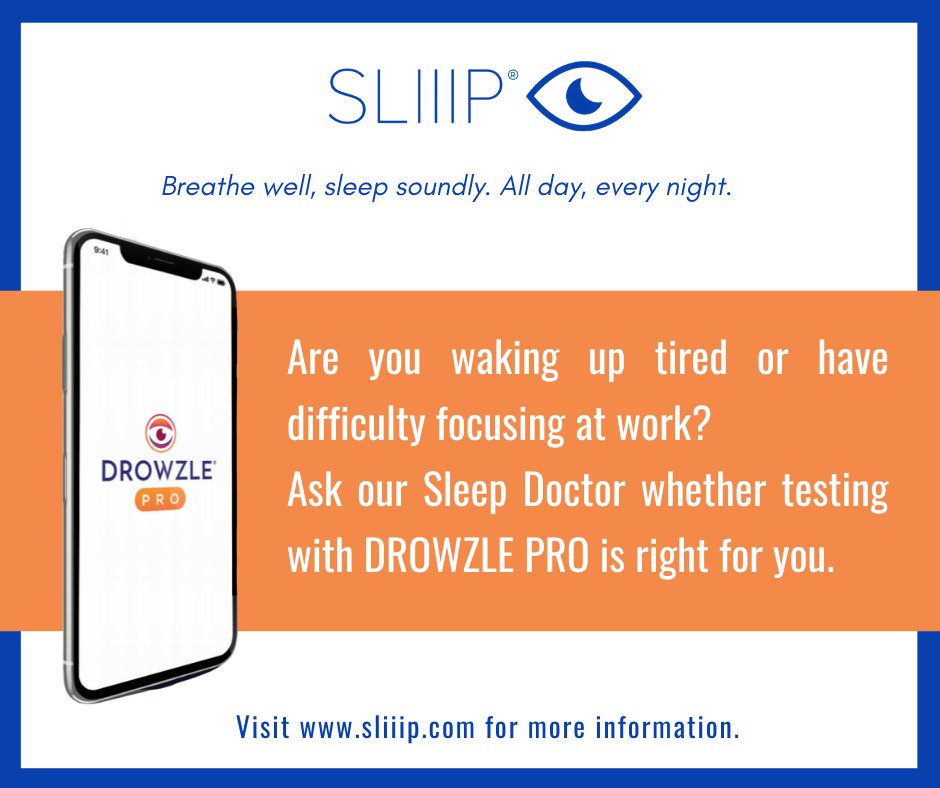 SLIIIP.COM DROWZLE PRO 1
Learn more about Sleep & Pulmonary Telemedicine at Sliiip.com
Whatever your sleeping disorder is, regardless of how small it may seem to you, do not wait for it to get worse. With our board-certified respiratory and sleep doctor within your reach, you can get properly diagnosed and treated without having to leave the comfort of your own home. Our online sleep specialist, Dr. Bhar believes that high-quality care only comes from a trustful physician-patient relationship.
For more information, get in touch with us today and visit www.sliiip.com, or call 478-238-3552.
The material contained on this site is for informational purposes only and DOES NOT CONSTITUTE THE PROVIDING OF MEDICAL ADVICE, and is not intended to be a substitute for independent professional