The What, the Who, and the Why of Pulmonary Rehab
Lung diseases such as emphysema, chronic obstructive pulmonary disease (COPD), chronic bronchitis, and lung fibrosis cannot be cured. It is vital we utilize every tool available to cope and possibly thrive despite these diseases. As an integrated pulmonary telemedicine practice, we serve the complex needs of patients with lung diseases from all over.
The vicious and downward spiral of lung disease goes something like this: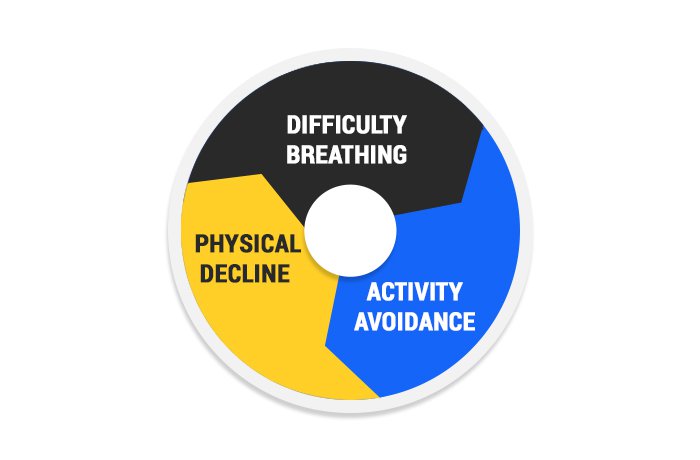 Yet we have underutilized one of the most effective therapies we have against chronic lung diseases. The need for travel and inconsistent insurer coverage has deprived many patients of the overwhelming benefits of pulmonary rehabilitation (PR) with less than 10% of eligible patients being referred.
The What
Pulmonary rehabilitation is not a jungle gym for patients with lung disease. PR is scientifically proven (in multiple research studies), individually prescribed exercises alongside self-management education to help patients cope with their lung disease. Traditionally this program has been delivered over a 12-week period (range between 8-16 weeks), with 3 sessions per week at a medical facility.
The American Thoracic Society and the European Respiratory Society define pulmonary rehabilitation (PR) as "a comprehensive intervention based on a thorough patient assessment followed by patient-tailored therapies, which include, exercise training, education, and behavior change. ~Thoracic
At Sliiip®, our goal is to partner with our patients to provide evidence-based medicine regardless of location and ability to access care. We are excited to provide our patients access to an outstanding online pulmonary rehabilitation program. The program is created and delivered by physical, occupational, and respiratory therapists from top healthcare institutions. Classes offered include strength, balance, flexibility, chair yoga, and meditation tailored to your needs. All from the comfort of home or office with classes ranging from 20 to 45 minutes, and without the need for gym equipment.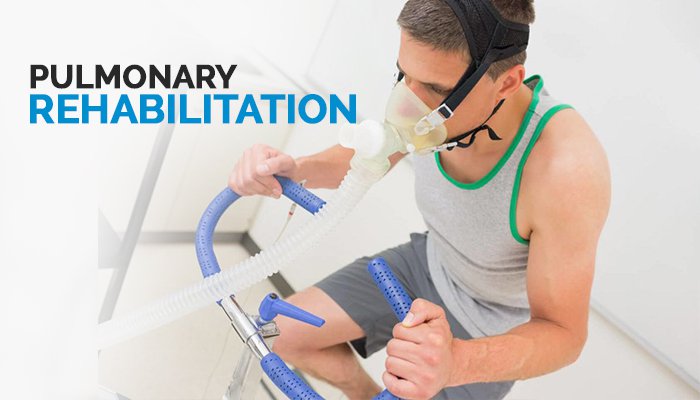 The Who
Any stage of COPD and lung fibrosis can benefit from PR. Even patients with mild disease benefit with early intervention to avoid the downward spiral. What is learnt during during the program should be practiced and carried over into daily life. If you stop exercising, the improvements made will soon be lost.
"With lung disease, oxygen exchange is highly inefficient. Imagine a car with a broken transmission – you need a whole lot more gas to make it move the same way it used to. With lung disease, we have to breath harder to make up for this inefficiency. The idea behind PR is to increase the efficiency of your musculoskeletal system, to reduce its need for 'more gas'." ~ Dr. Bhar
The Why
Time and time again, study after study has shown PR to improve breathlessness, ability to exercise, muscle strength, and overall quality of life. Things that get us closer to living our best lives.
We take our lungs for granted, and when it does not work as advertised it leaves many shaken and on edge. Not being able to catch your breath is debilitating. There is a very high prevalence (20-75%) of depression and anxiety in patients with lung disease. People with depression or anxiety with their lung disease have worse physical function, higher rates of hospitalization and higher mortality. The mental-physical connection works both ways. People completing PR have improved scores in terms of depression, anxiety, breathlessness and quality of life. That's win-win.
We sincerely hope to help our patients thrive despite their lung disease with our pulmonary telemedicine services.
Written by: Avinesh S Bhar, MD
About the author
Dr. Bhar is fellowship-trained and board-certified in sleep, critical care and pulmonary medicine. He has been in practice for over seven years and established a telemedicine practice founded on high-value and personalized, convenient, and cost-effective sleep and pulmonary care. At Sliiip, we offer pulmonary and sleep telemedicine services that allows you to receive video consultation, diagnosis, and follow up care from the comfort of your home. Our online sleep doctor, Dr. Avinesh Bhar, believes that high-quality care only comes from a trustful physician-patient relationship. To find out more about our services get in touch with us today by visiting our website, or calling 478-238-3552.